Malaysian Airlines MH3270 Disappearance
Standard analysis
Malaysia Airlines has confirmed that flight MH370 carrying 239 people, including 7 Indonesians, had gone missing at 2.40AM local time today (8/3/2014). (18:40 on Mar 7 UTC) The Beijing-bound flight, which was operated by a Boeing 777-200ER, departed Kuala Lumpur at 12.41AM. Its scheduled arrival was 6.30AM Beijing time.
According to the statement released by Malaysia Airlines, it is "now working with authorities who have activated their Search and Rescue team to locate the aircraft". The airline is also contacting the next-of-kin of the passengers and crew on board the missing flight.
The Boeing 777-200ER aircraft involved in this incident lost contact with Subang Air Traffic Control two hours after its departure from its base in Kuala Lumpur.
"Our focus now is to work with the emergency responders and authorities and mobilize its full support. Our thoughts and prayers are with all affected passengers and crew and their family members", stated the media statement that was released by the Malaysian flag carrier on 10.30AM, Saturday (8/3/2014).
Flight MH370 was also a code share with China Southern Airlines flight CZ748. Operated by 12 crew members, the Boeing777-200ER carried 227 passengers from 14 different nationalities.
The GCP event was set for 18:00 to 24:00 UTC on the 7th, corresponding to 02:00 + 6 hours local time. This includes about 40 minutes before the plane ceased communicating. The result is Chisquare 21681.487 21600 for p = 0.346 and Z = 0.395.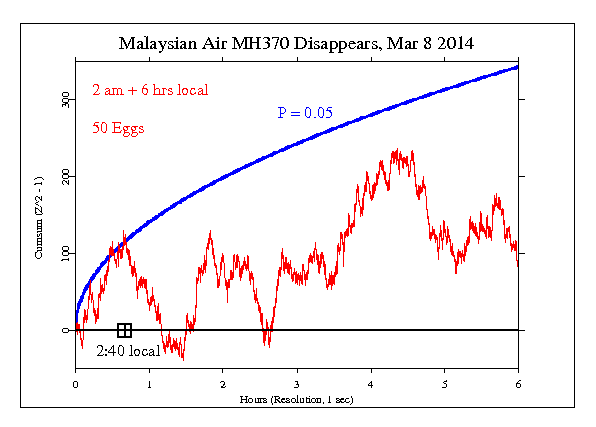 Standard Caveat: It is important to keep in mind that we have only a tiny statistical effect, so that it is always hard to distinguish signal from noise. This means that every "success" might be largely driven by chance, and every "null" might include a real signal overwhelmed by noise. In the long run, a real effect can be identified only by patiently accumulating replications of similar analyses.