From Wikipedia:
On September 7, 2011, Georgia set Davis's execution date for September 21, 2011. The Georgia Board of Pardons and Paroles set a hearing for Davis's second bid for clemency for September 19. The Board did not grant him clemency in September 2008, but the five-member Board had three new members. On September 20, the Board denied him clemency.
On the morning of September 21, 2011, the Butts County Superior Court denied Davis's request to halt his execution. The Georgia Supreme Court also denied his appeal. Davis was set to be executed at 7 pm EDT. The same night, White House Press Secretary Jay Carney announced that President Obama would not intervene in the case. Davis filed a request with the U.S. Supreme Court to stay his execution. Almost an hour after Davis's scheduled execution time, the Supreme Court announced they would review his petition, thereby postponing his scheduled execution. The Supreme Court, however, denied Davis's petition, after deliberating for several hours.
The execution began at 10:53 pm EDT. In his final words, Davis maintained his innocence, and addressing the MacPhail family said "I'm not the one who personally killed your son, your father, your brother". He asked his family and friends to continue the campaign. He was declared dead at 11:08 pm EDT.
The GCP event was set for 8 PM to 2 AM local time. The result is Chisquare 21494.147 on 21600 df for p = 0.694 and Z = -0.507.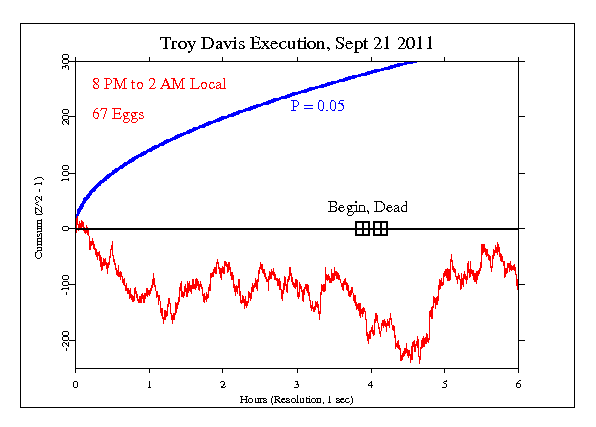 It is important to keep in mind that we have only a tiny statistical effect, so that it is always hard to distinguish signal from noise. This means that every "success" might be largely driven by chance, and every "null" might include a real signal overwhelmed by noise. In the long run, a real effect can be identified only by patiently accumulating replications of similar analyses.