Oak Creek, Wis.
At least six people were killed Sunday when a gunman opened fire at a Sikh temple near Milwaukee, and the suspected shooter later died in an exchange of gunfire with police, authorities said.
Police were called to the Sikh Temple of Wisconsin in the suburb of Oak Creek, where witnesses said several dozen people were gathering for a service. Authorities found four people dead inside the temple and two outside, Greenfield Police Chief Bradley Wentlandt said.
Sunny Singh, 21, of Milwaukee, said a friend pulled into the temple's parking lot, heard shots and saw two people fall down. The friend then saw the shooter reload his weapons and head to the temple's entrance, Singh said.
The first police officer to arrive at the temple engaged in gunfire outside the building with a man police believe was the shooter, Wentlandt said. The suspect was killed, he said.
Tactical units went through the temple, and authorities do not believe a second shooter was involved, Wentlandt said.
It's unclear how many others were wounded. Wentlandt said he had been told the officer who exchanged gunfire with the suspect and another person had been taken to hospitals. He said the officer was shot multiple times and is in surgery and is expected to survive.
The spokeswoman for the area trauma center said three victims were being treated there, including one who was in surgery.
The GCP event was set for 6 hours beginning at 10:00 local time (15:00 UTC) and included some minutes before the 911 calls signaling the emergency. The result is Chisquare 21670 on 21600 df for p = 0.366 and Z = 0.341.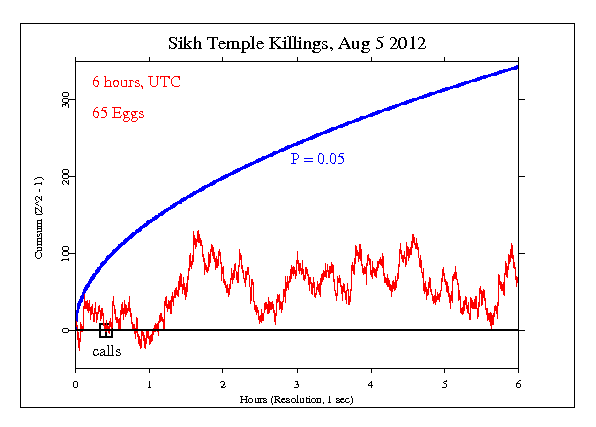 It is important to keep in mind that we have only a tiny statistical effect, so that it is always hard to distinguish signal from noise. This means that every "success" might be largely driven by chance, and every "null" might include a real signal overwhelmed by noise. In the long run, a real effect can be identified only by patiently accumulating replications of similar analyses.