Suicide Bombing in Riyadh, Saudi Arabia. May 12, 2003, 11:30 p.m. (20:30 GMT). Attackers shot their way into three housing compounds in synchronized strikes in the Saudi capital and then set off multiple suicide car bombs, killing 20 people at first estimate, including seven Americans. As of a few days later the number killed was said to be 34, with about 200 wounded.
Authorities also found nine charred bodies believed to be those of the attackers, a Saudi Interior Ministry official said. The bombings, which took place about 11:30 p.m. Monday, constituted one of the deadliest terror attacks on Americans since Sept. 11, 2001. Secretary of State Colin Powell said the coordinated strike had "the fingerprints of al-Qaida," the group that attacked the World Trade Center and the Pentagon.
The formal prediction was for a period of one hour prior to the attacks, to three hours after, standard analysis. The result shows Chisquare 14524 on 14400 df, with p = 0.231. The pattern is suggestive of an early response, beginning an hour before the bombing and peaking half an hour after.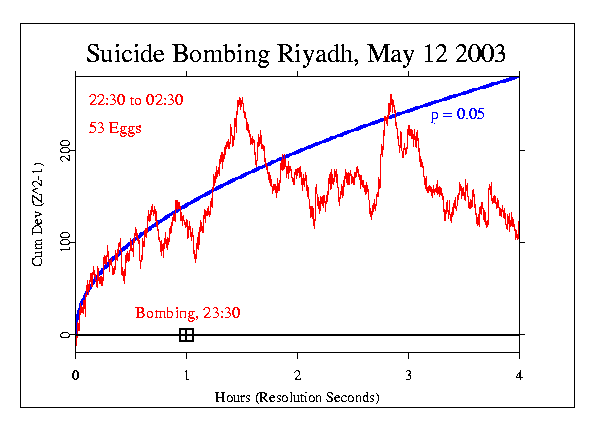 A larger context is instructive. The following figure shows the 12th and 13th of May, GMT, with the four-hour period of the formal analysis marked. The bombing happened one hour into this period, at 11:30 pm local time (21:30 GMT). In context, the graph of the data shows nothing impressive, and this is consistent with the formal test probability. The suggestion of an "early response" may be just an accidental outcome.