International Day of Peace 2013
Many groups and people. Jonni Pollard, Patrick Kronfli, unify.org, Barbara Marx Hubbard, GlobeShift, Oneness Mid-Atlantic, Casa de Metta, Hearthmath, Glocal Coherence Initiative, The Gaiafield Project, Pulse of Peace, Global Intention Experiment, Pathways to Peace, Shift Network, Peace Throuch Culture, Global Invocation Vigil, MedMob ...
The GCP event was set using the specifications from previous years, which follow precise timing given by several groups attempting to enable participation from the international community in all time zones. The main events began on Sept 21 at 04:00 UTC and ended 24 hours later, at 04:00 Sept 22. Chisquare 86420.089 on 86400, for p = 0.480 and Z = 0.050 This analysis was corrected after removing one bad egg.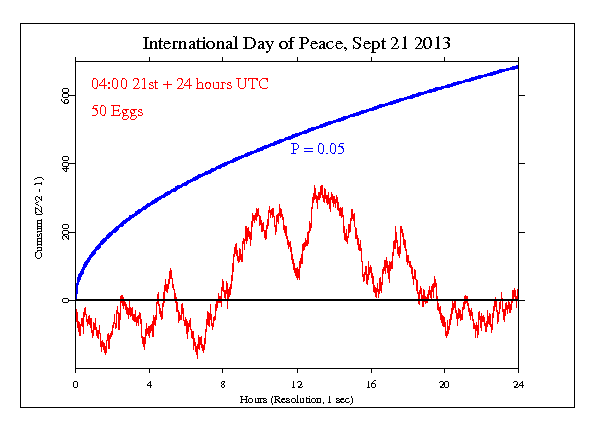 It is important to keep in mind that we have only a tiny statistical effect, so that it is always hard to distinguish signal from noise. This means that every "success" might be largely driven by chance, and every "null" might include a real signal overwhelmed by noise. In the long run, a real effect can be identified only by patiently accumulating replications of similar analyses.