From BBC news, November 29 2012
The UN General Assembly has voted overwhelmingly to recognise Palestine as a non-member observer state - a move strongly opposed by Israel and the US.

Palestinian President Mahmoud Abbas said this was the "last chance to save the two-state solution" with Israel.

Israel's UN envoy said the bid pushed the peace process "backwards", while the US said the move was "unfortunate".

The Palestinians can now take part in UN debates and potentially join bodies like the International Criminal Court.

The assembly voted 138-9 in favour, with 41 nations abstaining.

Hundreds of Palestinians celebrated on the streets of Ramallah, in the West Bank after the result was announced.
The GCP event was set for 6 hours beginning at noon, Eastern time, which is 17:00 to 23:00 UTC. I could not learn when the vote actually was taken, but a watch in a photo appeared to say 2:30 pm. The result is Chisquare 21422.085 on 21600 df, for p = 0.804 and Z = -0.855.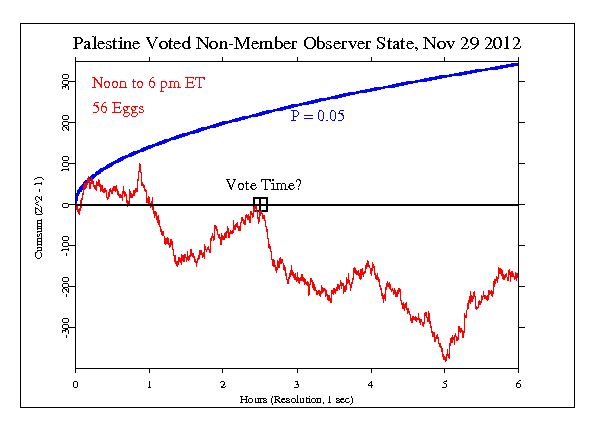 It is important to keep in mind that we have only a tiny statistical effect, so that it is always hard to distinguish signal from noise. This means that every "success" might be largely driven by chance, and every "null" might include a real signal overwhelmed by noise. In the long run, a real effect can be identified only by patiently accumulating replications of similar analyses.