Olympic Opening Ceremony, London, July 27 2012
The Opening Ceremony is a celebration showcasing the best of the Host Nation. It also features a parade of all competing nations and the highly anticipated entrance of the Olympic Flame, which ignites the Cauldron and signals the start of the Games.
The eyes of the world will be on London for the Opening Ceremony of the London 2012 Olympic Games. The Ceremony will provide an opportunity for the world to view the artistic expression of the Artistic Director (Danny Boyle) and his team, and the culture of our Host City and the UK. There are certain elements that must feature in every Ceremony, as outlined in the International Olympic Committee (IOC) charter. The artistic performance of the Ceremony then gets underway and welcomes the world to the London 2012 Games.
The name of the Olympic Opening Ceremony show will be 'Isles of Wonder' and the worldwide broadcast will commence at 9pm. The Ceremony will kick off with the sound of the largest harmonically tuned bell in Europe, produced by the Whitechapel Foundry, and the Stadium will be transformed into the British countryside for opening scene 'Green and Pleasant', which includes real farmyard animals. The Ceremony will also include a special sequence celebrating the best of British, featuring volunteer performers from the NHS.
Danny Boyle, Artistic Director of the London 2012 Olympic Opening Ceremony, said: 'Our Isles of Wonder salutes and celebrates the exuberant creativity of the British genius in an Opening Ceremony that we hope will be as unpredictable and inventive as the British people.'
The GCP event was set for 6 hours beginning at 20:00 UTC, which covers the full 5 hour ceremony plus an extra hour. The result is Chisquare 21542.527 on 21600 for p = 0.608 and Z = -0.274.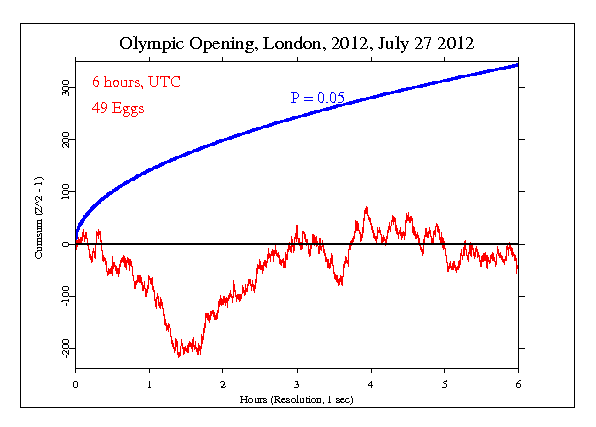 It is important to keep in mind that we have only a tiny statistical effect, so that it is always hard to distinguish signal from noise. This means that every "success" might be largely driven by chance, and every "null" might include a real signal overwhelmed by noise. In the long run, a real effect can be identified only by patiently accumulating replications of similar analyses.