Heavy storms and tornados tore through the US Midwest over several days beginning 18th May and continuing into the 21st. We take the worst hit area as representative.
From the New York Times:
MOORE, Okla. — A giant tornado, a mile wide or more, killed at least 91 people, 20 of them children, as it tore across parts of Oklahoma City and its suburbs Monday afternoon, flattening homes, flinging cars through the air and crushing at least two schools. (I believe the number of deaths has been revised downward.)
The injured flooded into hospitals, and the authorities said many people remained trapped, even as rescue workers struggled to make their way through debris-clogged streets to the devastated suburb of Moore, where much of the damage occurred.
Amy Elliott, the spokeswoman for the Oklahoma City medical examiner, said at least 91 people had died, including the children, and officials said that toll was likely to climb. Hospitals reported at least 145 people injured, 70 of them children.
Plaza Towers Elementary School in Moore was reduced to a pile of twisted metal and toppled walls. Rescue workers were able to pull several children from the rubble, but on Monday evening crews were still struggling to cut through fallen beams and clear debris amid reports that dozens of students were trapped. At Briarwood Elementary School in Oklahoma City, on the border with Moore, cars were thrown through the facade and the roof was torn off.
The tornado touched down at 2:56 p.m., 16 minutes after the first warning went out, and traveled for 20 miles, said Keli Pirtle, a spokeswoman for the National Weather Service in Norman, Okla. It was on the ground for 40 minutes, she said. It struck the town of Newcastle and traveled about 10 miles to Moore, a populous suburb of Oklahoma City.
Ms. Pirtle said preliminary data suggested that it was a Category 4 tornado on the Enhanced Fujita scale, which measures tornado strength on a scale of 0 to 5. A definitive assessment will not be available until Tuesday, she said.
The GCP event was proposed by Hans Wendt, and set for 24 hours on the 20th UTC. The result is Chisquare 86944.264 on 86400 for p = 0.095 and Z = 1.308.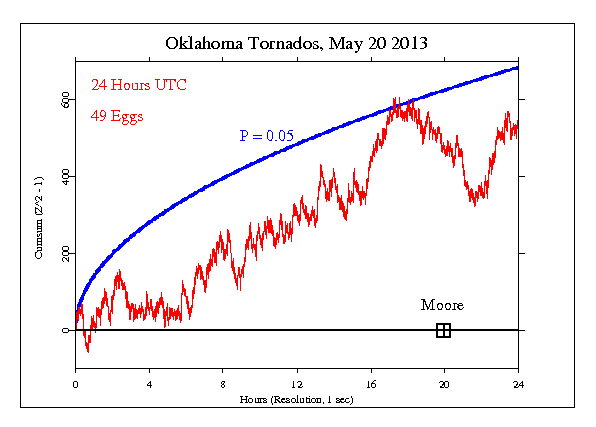 It is important to keep in mind that we have only a tiny statistical effect, so that it is always hard to distinguish signal from noise. This means that every "success" might be largely driven by chance, and every "null" might include a real signal overwhelmed by noise. In the long run, a real effect can be identified only by patiently accumulating replications of similar analyses.