From the BBC:
March 29 2010: Two suicide bombers blew themselves up at Lubyanka station and Park Kultury station, killing 35 people. The attacks, in the morning rush hour, killed at least 38 people and injured more than 60, officials say. No group has said it carried out the attacks, but security services have blamed rebels from the North Caucasus - which includes Chechnya and Ingushetia.
President Dmitry Medvedev laid a wreath at the scene of one of the attacks, labelling the plotters "beasts". He said: "We will find and destroy them all."
The first explosion tore through a carriage of a train at central Lubyankastation at 0756 (0356 GMT) as it stood waiting for commuters to board. The station lies beneath the headquarters of the Federal Security Service (FSB). The second explosion, six stops away at Park Kultury, came at 0838 (0438 GMT). It hit the back of the train as people were getting on board.
The GCP event was set for 07:30 to 11:30, which includes almost half an hour before the first explosion and some three hours following the last. The result is Chisquare 14534.512 on 14000 df, for p=0.214 and Z=0.794.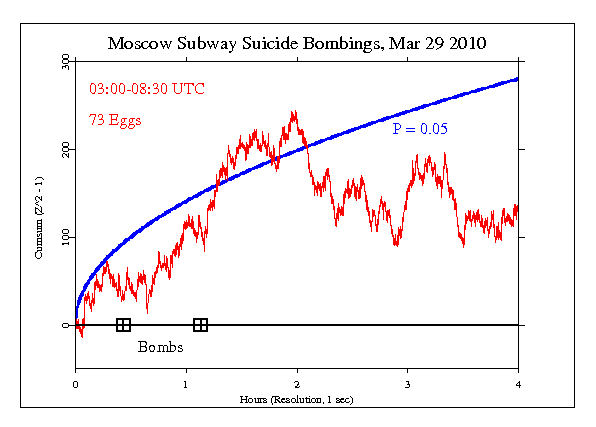 It is important to keep in mind that we have only a tiny statistical effect, so that it is always hard to distinguish signal from noise. This means that every "success" might be largely driven by chance, and every "null" might include a real signal overwhelmed by noise. In the long run, a real effect can be identified only by patiently accumulating replications of similar analyses.