Many people and groups around the world give magical meaning to special dates such as the 12th of December 2012, written as 12.12.12. The symmetry or unusual conjunction of numbers seems to be the source. In any case, such days are often used as a focus for large numbers to commune, for example to meditate together. My colleague Paul alerted me to one example that we agreed might lead to a coherence of many individuals meditating at one or both of two set times. Paul wrote:
I stumbled across a reference to an attempted global guided(?) meditation scheduled for 12/12/12 called the "Global UNITY Moment". Website

If they are actually able to convince enough people to join in, we should look for a convergence effect on the GCP EGG network.

It looks like there two scheduled "moments". 9:30PM EST, and 9:30PM JST (Japan) for the two hemispheres. I didn't dig into how long the "moment" should last, but the youtube trailer mentioned 30 minutes, so it may crescendo.

110,000 views on youtube with two days to go. We'll see.
I decided to set a GCP event for the usual 6 hours, but composed by putting together (concatenating) the two 3-hour periods beginning at the time set for the meditations in the two time zones. This is 12:30-15:30 GCP on the 12th for the Japanese segment plus 02:30-05:30 on the 13th for the East coast US segment. The result is Chisquare 21680.008 on 21602 df for p = 0.353 and Z = 0.378.
The graph below shows the two periods, Japan for the first 3 hours and US for the second. There is no notable effect, also not during the first 30 minutes of the two periods. But note the caveat statment at the end of the page.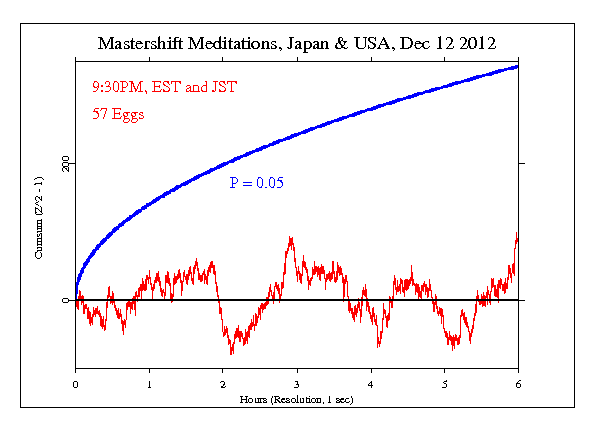 Since the day had much more going on, including the huge 12.12.12 Concert to benefit victims of the recent Hurricane Sandy devastation of the East Coast of the US, I did an exploratory look at the whole UTC day. (The concert overlapped with the meditation event which had already been set, so we could not do a formal look at it.)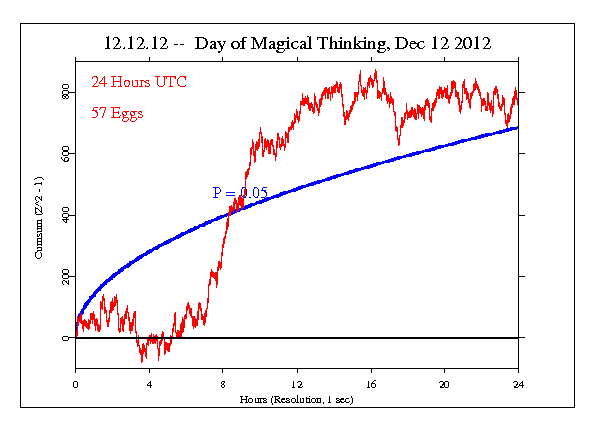 It is important to keep in mind that we have only a tiny statistical effect, so that it is always hard to distinguish signal from noise. This means that every "success" might be largely driven by chance, and every "null" might include a real signal overwhelmed by noise. In the long run, a real effect can be identified only by patiently accumulating replications of similar analyses.