From NY Times: L'Aquila, Italy, At twilight on Monday April 6, seven wooden coffins lay on the ground under a gnarled tree in Onna, a tiny village eight miles from here. A woman was slumped in grief over one, while people comforted her. After a few moments, five men strained to lift four coffins into a funeral van.
L'Aquila and more than 26 nearby villages were affected. Several buildings in L'Aquila were reduced to rubble. As the death toll continued to rise late Monday from a powerful earthquake that shook central Italy early in the day, officials said that as many as 150 people had been killed, at least 1,500 injured and tens of thousands left homeless.
The 6.3-magnitude quake seriously damaged historic buildings in the medieval hill towns of the mountainous Abruzzo region east of Rome. The deaths and damage was centered in L'Aquila, a picturesque fortress town at the epicenter, but more than 26 nearby villages were also affected, some seriously. Historic buildings in the surrounding region in the Apennine mountains were also damaged.
The earthquake struck around 3:30 a.m. Monday and could be felt as far away as Rome, 60 miles to the west, where it rattled furniture and set off car alarms. The United States Geological Survey said it was one of several quakes to hit the region overnight. Among the hardest hit places was Onna, a rural village of less than 400 people. At least 37 residents of the village died, the ANSA news agency reported. Onna'a older two- and three-story stone houses had nearly all been reduced to rubble.
The GCP event was set for 1.5 hours before to 11.5 hours after the quake, 00:00 to 12:00 UTC. The result is Chisquare 43127.15 on 43200 df, for p = 0.597 and Z = -0.246.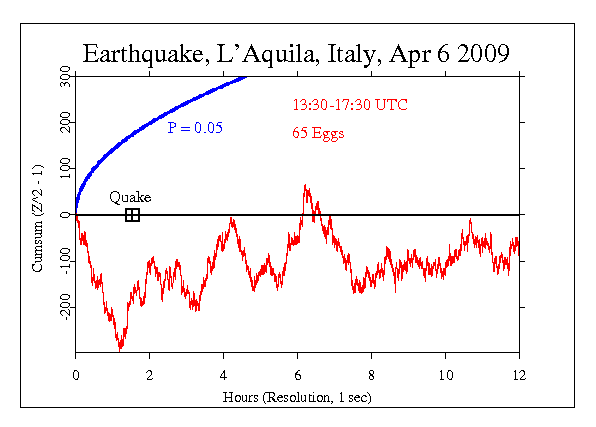 It is important to keep in mind that we have only a tiny statistical effect, so that it is always hard to distinguish signal from noise. This means that every "success" might be largely driven by chance, and every "null" might include a real signal overwhelmed by noise. In the long run, a real effect can be identified only by patiently accumulating replications of similar analyses.