George Harrison died on November 29, 2001, after long battling cancer. The youngest Beatle, and the most "spiritual" of the group was much loved by family and friends and the great number of fans of his own music as well as the repertoire of Beatles hits. Don Watson suggested that his passing should be a GCP event, and provided information about a minute of silence to honor George Harrison on December 3, 2001, as a formal prediction.
"As a tribute, Harrison's widow and son asked fans to join them for a minute of meditation.

"Olivia and Dhani invite you to join them in a minute of meditation in honour of George's journey, wherever you are on Monday at 1:30 p.m. PST (1830 GMT)."
The first figure shows this period, which has a modest positive departure from expectation, with Chi-square 67.819 on 60 degrees of freedom, and a p-value of 0.228.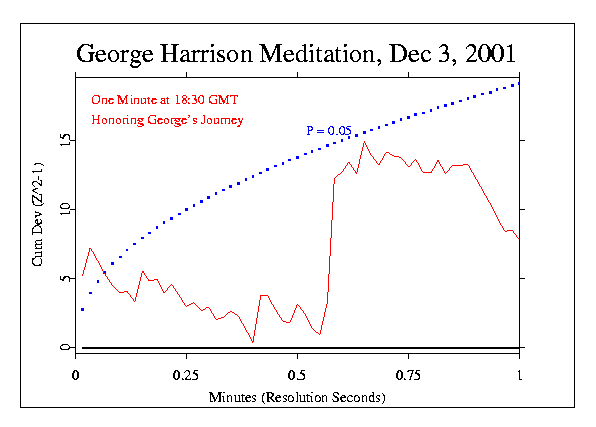 The actual time of death was approximately 21:30, GMT, on the 29th of November. The next figure shows the GCP data for the 29th, with the time of death indicated. The whole day shows a persistent trend, though it is not statistically significant. From a purely aesthetic perspective, it does symbolize the poignancy of Harrison's passage.