2 March 2008 GAZA CITY -- Amidst a mounting death toll in Gaza from Israeli air and ground attacks, the Palestinian leadership called off peace talks with Israel while the United Nations Security Council met late Saturday in emergency session.
Israeli forces continued attacks on Sunday after killing 61 Palestinians in a land and air blitz in the Hamas-held Gaza Strip on Saturday, amid warnings that the violence had "buried" the peace process.
In New York, the United Nations condemned both Israel and the Palestinians for the heavy fighting and in particular the high death toll inflicted by the Israeli Defence Forces on the Palestinian civilians in Gaza Strip. The UN Security Council was convened for an urgent meeting at the request of Libya on behalf of the Palestinian Authority to discuss the situation, which UN Secretary General Ban Ki-Moon said had caused a terrible civilian death toll.
"The scenes today from Gaza have been particularly disturbing," Banā said in an address to the open council meeting. The bloodshed on Saturday alone claimed 60 lives - one of the highest daily totals in years - as the Israeli army retaliated with ground and air attacks against continuing rocket fire from Gaza militants.
I was unable to find any precise information on the timing of raids, so decided to set the full 24 hour day (UTC) as representative of this tragic increase in violence. The result is a striking trend for most of the day, and a huge drop in the late afternoon, then again a rise in the network variance. The final results is Chisquare 86941.944 on 86400 df, for p=0.096 and Z=1.303.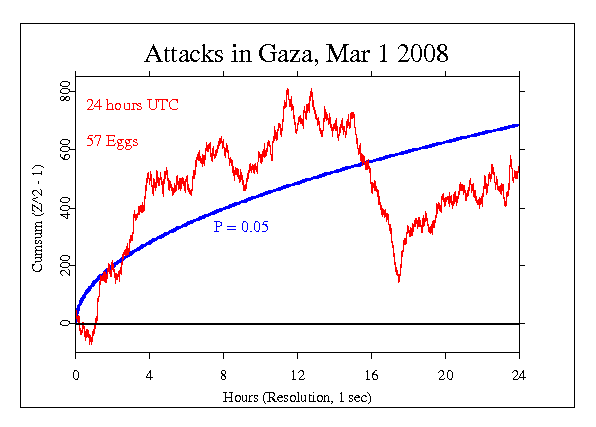 -->