Note: this event analysis is done with only 34 eggs. It will be redone later when the rest of the network is again reporting data after recovery from a server change.
Adapted from The Times of India:
Shortly before dawn prayers on Thursday, Gaddafi, surrounded by a few dozen loyal bodyguards and accompanied by the head of his now non-existent army Abu Bakr Younis Jabr, broke out of the two-month siege of Sirte and made a break for the west. But they did not get far. France said its aircraft struck military vehicles belonging to Gaddafi forces near Sirte at about 8:30 a.m. (0630 GMT) on Thursday, but said it was unsure whether the strikes had killed Gaddafi.

Some two miles west of Sirte, 15 pick-up trucks mounted with heavy machine guns lay burnt out, smashed and smouldering next to an electricity sub station some 20 metres from the main road. They had clearly been hit by a force far beyond anything the motley army the former rebels has assembled during eight months of revolt to overthrow the once feared leader. But there was no bomb crater, indicating the strike may have been carried out by a helicopter gunship, or that it had been strafed by a fighter jet.

Gaddafi himself and a handful of his men escaped death and appeared to have run through a stand of trees towards the main road and hid in the two drainage pipes. But a group of government fighters were on their tail. "At first we fired at them with anti-aircraft guns, but it was no use," said Salem Bakeer, while being feted by his comrades near the road. "Then we went in on foot.

"One of Gaddafi's men came out waving his rifle in the air and shouting surrender, but as soon as he saw my face he started shooting at me," he told Reuters. "Then I think Gaddafi must have told them to stop. 'My master is here, my master is here', he said, 'Muammar Gaddafi is here and he is wounded'," said Bakeer. "We went in and brought Gaddafi out. He was saying 'what's wrong? What's wrong? What's going on?'. Then we took him and put him in the car," Bakeer said.

At the time of capture, Gaddafi was already wounded with gunshots to his leg and to his back, Bakeer said. Other government fighters who said they took part in Gaddafi's capture, separately confirmed Bakeer's version of events, though one said the man who ruled Libya for 42 years was shot and wounded at the last minute by one of his own men.
It is unclear at this time when he died, but it was not long after he was captured at noon. He apparently died of a gunshot to the head, but the details remain obscure. Claims range from incidental death in the crossfire of loyalists and rebels to a deliberate execution.
The GCP event was set for 12 hours beginning when Gaddafi and his bodyguard broke out of hiding, and ending about six hours after his death. The result is Chisquare 43903 on 43200 df, for p = 0.009 and Z = 2.380.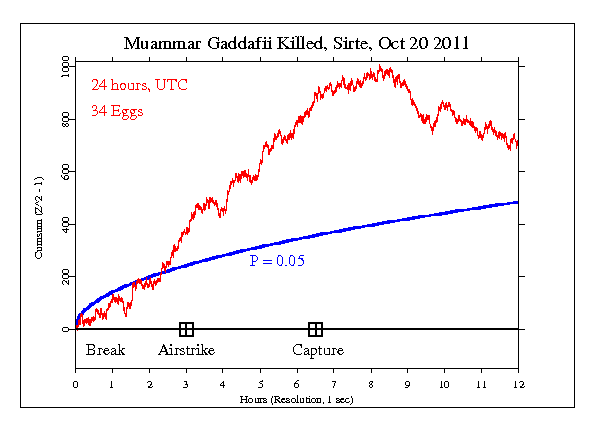 It is important to keep in mind that we have only a tiny statistical effect, so that it is always hard to distinguish signal from noise. This means that every "success" might be largely driven by chance, and every "null" might include a real signal overwhelmed by noise. In the long run, a real effect can be identified only by patiently accumulating replications of similar analyses.