I received an email from our Egg host in Islamabad, Abdulsamad Khan, noting that a protest movement similar to the Arab spring seems to be taking shape in Pakistan. In this case the stimulating force was a series of bomb attacks that has killed about 100 people. The largest was in Quetta.
ISLAMABAD, Jan. 11 (Xinhua)-- At least 82 people were killed and 120 others injured in twin blasts that rocked Pakistan's southwest city of Quetta on Thursday night, according to police and hospital sources. Earlier in the day another explosion killed a dozen more people.
Mir Zubair, City Central Police Officer in Quetta, confirmed that 81 were killed and 121 got injured in the twin blasts. Shortly after his announcement, there came a report saying another person died of serious wounds at the hospital. According to police and local media reports, the killed include nine policemen, 25 rescue workers and two media persons. Hospital sources said there were still dozens of injured people remaining in critical condition and the death toll may further rise.
The twin blasts took place at about 8:50 local time when a first bomb hit a snooker club located on the Alamdar Road in the city. It was a suicide blast, said bomb disposal squad officers, adding that an estimated six to seven kg of explosives were used in the blast. As police, rescuers and media persons rushed to the blast site, another bomb fixed in a vehicle parked nearby the site went off, causing a massive casualty among the people gathering on the first blast site. Bomb disposal officers believed that an estimated 100 kg of explosives were used in the second bomb.
The GCP event was set for 6 hours beginning at 8pm local time (15:00 to 21:00 UTC). The result is 21716.604 on 21600 df, for p = 0.287 and Z = 0.563.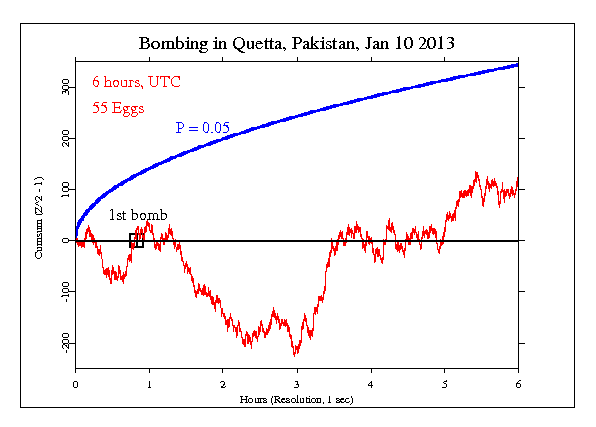 It is important to keep in mind that we have only a tiny statistical effect, so that it is always hard to distinguish signal from noise. This means that every "success" might be largely driven by chance, and every "null" might include a real signal overwhelmed by noise. In the long run, a real effect can be identified only by patiently accumulating replications of similar analyses.