From The Associated Press
MOGADISHU, Somalia -- militants detonated a truck bomb Tuesday in front of the Ministry of Education in Mogadishu, killing at least 70 people, wounding dozens and shattering a relative calm that had prevailed in the Somali capital for weeks.
The bomb blew up after coming to a halt at a security checkpoint. It left blackened corpses on the debris-strewn street and set other vehicles alight. Uniformed soldiers were seen dragging the wounded away.
Ali Muse, the chief of Mogadishu's ambulance service, told The Associated Press that at least 70 people died and at least 42 others were wounded.
The al-Qaida-linked group al-Shabab immediately claimed responsibility for Tuesday's attack on a website it uses.
It was the biggest attack in Somalia's capital since al-Shabab withdrew most of its forces in August amid an offensive by African Union forces. The group had been expected to fight back with guerrilla-style attacks, including car bombs. Several car bombs have been defused or exploded before reaching their targets in recent weeks.
Ali Hussein, a police officer in Mogadishu, said the vehicle blew up after pulling up to a checkpoint at the entrance to the Ministry of Education.
The GCP event was set for 08:00 to 14:00 on 4 October. I could not find the time of the explosion, but it was during daylight and business hours. The result is Chisquare 21188.869 on 21600 df, for p = 0.977 and Z = -1.988. As the graph shows, there is a very consistent negative deviation over the 6 hours set for the event.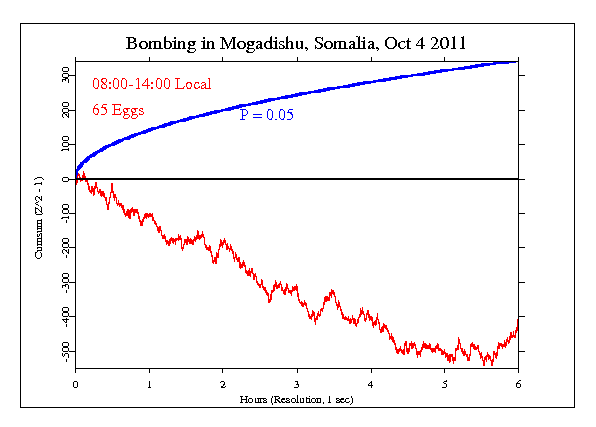 It is important to keep in mind that we have only a tiny statistical effect, so that it is always hard to distinguish signal from noise. This means that every "success" might be largely driven by chance, and every "null" might include a real signal overwhelmed by noise. In the long run, a real effect can be identified only by patiently accumulating replications of similar analyses.