Killing Spree, Binghamton, NY A gunman invaded an immigration services center in downtown Binghamton, N.Y., during citizenship classes on Friday and shot 13 people to death and critically wounded 4 others before killing himself in a paroxysm of violence that turned a quiet civic setting into scenes of carnage and chaos.
The killing began around 10:30 a.m. and was over in minutes, witnesses said, but the ordeal lasted up to three hours for those trapped inside the American Civic Association as heavily armed police officers, sheriff's deputies and state troopers threw up a cordon of firepower outside and waited in a silence of uncertainty.
Finally, officers who had not fired a shot closed in and found a sprawl of bodies in a classroom, 37 terrified survivors cowering in closets and a boiler room and, in an office, the dead gunman, identified as Jiverly Wong, 42, a Vietnamese immigrant who lived in nearby Johnson City.
The GCP event was set for an hour before to 4 hours after the event began, 13:30 to 18:30 UTC. The result was Chisquare 17784.846 on 18000 df for p = 0.872 and Z = -1.136.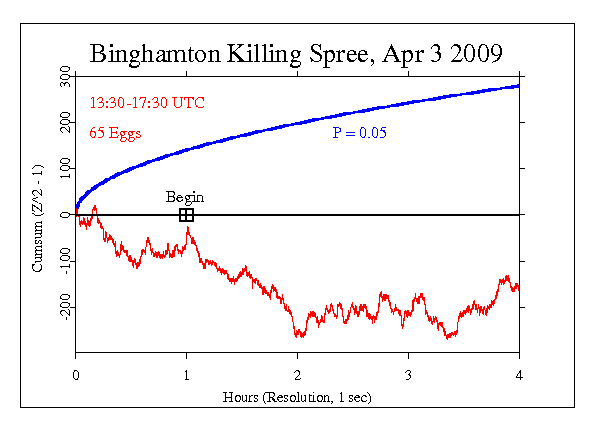 It is important to keep in mind that we have only a tiny statistical effect, so that it is always hard to distinguish signal from noise. This means that every "success" might be largely driven by chance, and every "null" might include a real signal overwhelmed by noise. In the long run, a real effect can be identified only by patiently accumulating replications of similar analyses.