Bali Terrorist Bombing Oct 1 2005. At least two bombs exploded almost simultaneously Saturday in tourist areas of the Indonesian resort island of Bali, killing at least 22 people and wounding about 50 others, officials said. The blasts came a month after Indonesia's president warned of possible terrorist attacks. The bombs went off at about 7:30 p.m. at three restaurants packed with foreign and Indonesian diners.
The blasts at seafood restaurants in Jimbaran beach and a bustling outdoor shopping center in downtown Kuta were the work of terrorists, Indonesian President Suslio Bambang Yudhoyono said. The attacks occurred nearly three years to the day that bombings in Kuta killed 202 people, mostly foreigners. Those attacks, and subsequent deadly bombings in 2003 and 2004, were blamed on the al-Qaida-linked terror group Jemaah Islamiyah.
The GCP prediction was for deviation of the network variance (squared Stouffer Z) beginning an hour before the blast (18:30) and continuing until midnight in Bali. This is 11:30 to 17:30 GMT. The results show Z = 1.727 and p = 0.042. The first figure displays the hypothesis test data, and following it is the full GMT day's data for context. It appears that the strong positive trend in the data began early and continued during most of the day.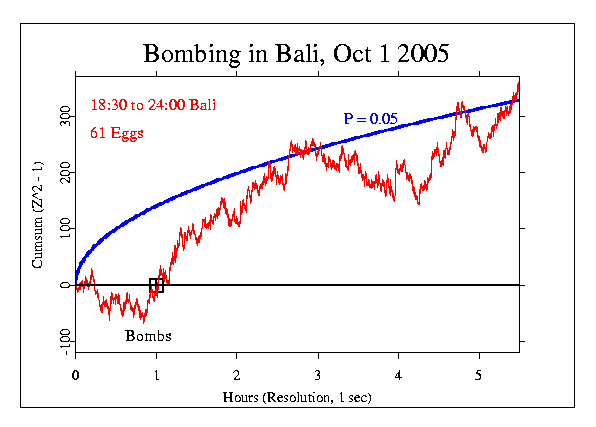 Bali Terrorist Bombing Oct 1 2005