Adapted from Fox.com:
ISLAMABAD – An avalanche that buried more than 120 soldiers in a Himalayan region close to India has put a spotlight on what critics say is one of world's most pointless military deployments: two poverty-wracked nations engaged in a costly standoff over an uninhabitable patch of mountain and ice.
Since Saturday morning when the massive wall of snow engulfed a Pakistani military complex close to the Siachen Glacier, rescue teams have been unable to dig up any survivors. There is now very little hope that even a small number of people will come out alive.
A team of U.S. military experts was expected to arrive at the site Monday to assist in the rescue efforts, according to an American official. The team flew in from Afghanistan after the Pakistani army asked for help, the official said on condition of anonymity because he was not authorized to brief the media.
The missing soldiers are part of the Pakistani military deployment to the Siachen Glacier, which forms the northern part of Kashmir region, disputed between Islamabad and India and the main source of tension between the nuclear-armed rivals who have fought three wars since 1947.
The conflict over Siachen began in 1984 when India occupied the heights of the 49-mile long glacier, fearing Pakistan wanted to claim the territory. Islamabad also deployed its troops. A 2003 cease-fire largely ended skirmishes on the glacier, where troops have been deployed as high as 20,000 feet, but both armies remained camped out there. Neither side releases information on troop numbers in the region, but they are believed to be in the hundreds or low thousands.
Of all the problems plaguing the two countries, Siachen is often described as one of the easiest to solve but it is hostage to general mistrust and hard-liners on both sides who don't want to give up their claim on territory, however strategically insignificant.
The GCP event was set for 6 hours beginning at 9 AM local time (04:00 to 10:00 UTC). The result is 21765.623 on 21600 df, for p = 0.212 and Z = 0.798.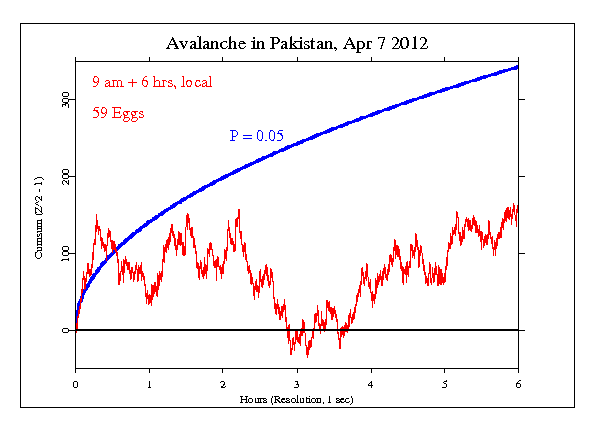 It is important to keep in mind that we have only a tiny statistical effect, so that it is always hard to distinguish signal from noise. This means that every "success" might be largely driven by chance, and every "null" might include a real signal overwhelmed by noise. In the long run, a real effect can be identified only by patiently accumulating replications of similar analyses.